While it's no longer uncommon to see celebrities and sports stars stream video games in their spare time, it's not often that you see one who's a bona fide PC enthusiast to boot. But Hawthorn Hawks' number 6, James Sicily is just that. A regular streamer on the AFL Gamers Network, he's now partnered with AORUS and Nvidia to build an ultimate, custom PC to take his performance to another level and help expose the superiority of PC gaming to the masses.
It comes off the back of a similar partnership with famous YouTube animator, Sam Green which saw the building of an extraordinary custom PC using AORUS components. This time the build is centred around the phenomenal AORUS RTX 3080 Xtreme graphics card which James chose to do battle in Call of Duty and his other favourite games. The build was recorded and performed by the SimpleModz and Gear Seekers YouTubers.
Sicily said, "My gaming has gone to a new level thanks to the custom build powered by AORUS and Nvidia. I'm more than a casual gamer and wanted an edge and they've delivered in spades." So, what is it about AORUS that has caught the attention of this high-profile, professional athlete?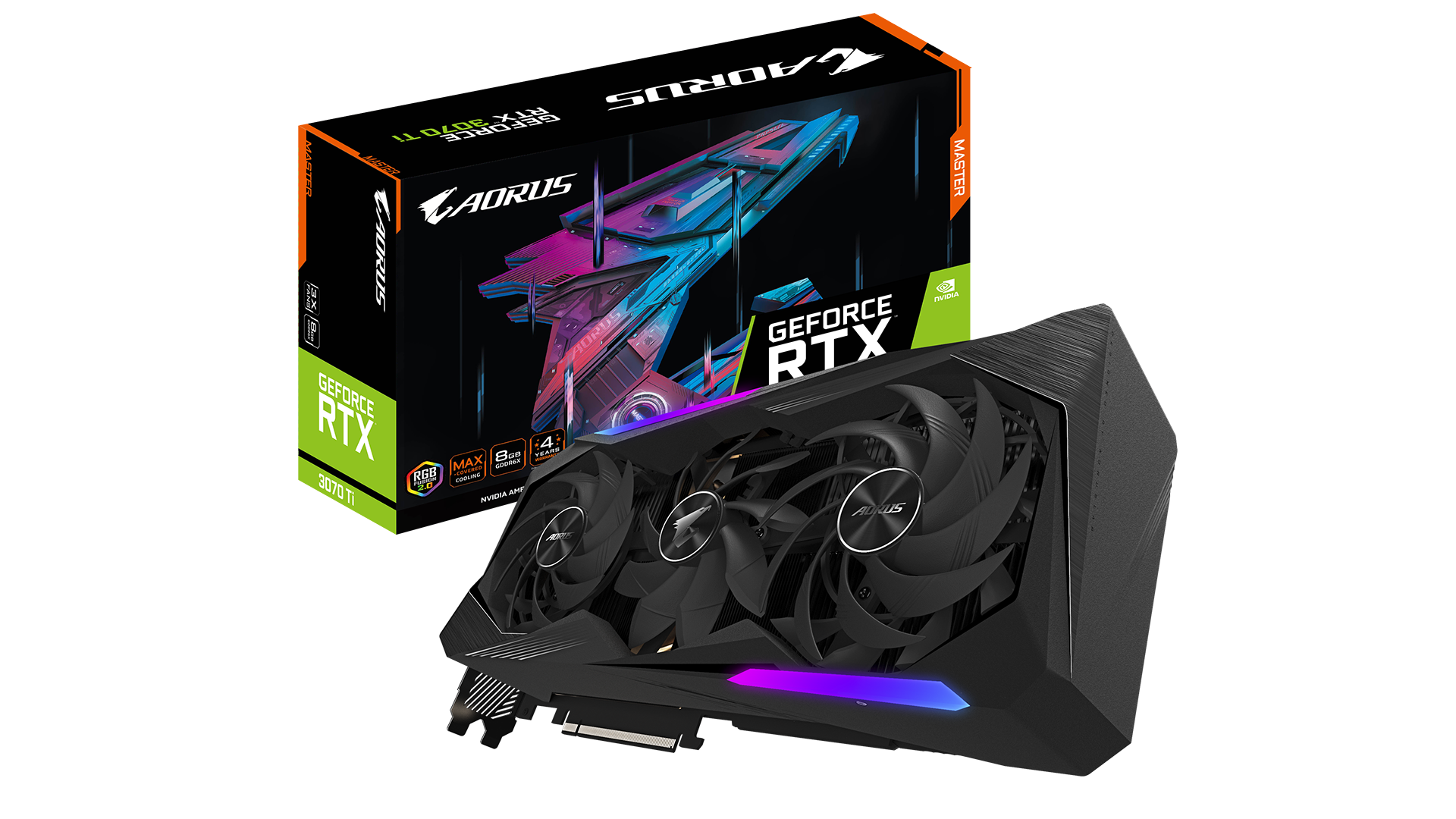 AORUS graphics cards
AORUS makes graphics cards to suit all budgets and all levels of performance. Three of the best choices are based on the Nvidia GeForce RTX 3070 Ti, 3080 and 3080 Ti GPUs.
The AORUS GeForce RTX 3070 Ti Master 8G has 6,144 CUDA cores running at a core clock speed of 1,875MHz (up from a stock 1,770MHz) which are flanked by 8GB of GDDR6X 256-bit memory. A tier above this sits the card James Sicily described as being "absolutely flawless" – the AORUS GeForce RTX 3080 Xtreme 10G, which has 8,704 CUDA Cores running at 1,905MHz (up from 1,710MHz) and 10GB of 320-bit GDDR6X memory.
Atop the pyramid is the AORUS GeForce RTX 3080 Ti Xtreme 12G. This beast has 10,240 CUDA Cores running at 1,830MHz (up from a stock 1,665MHz) plus 12GB of 384-bit GDDR6X memory. 
All three of these cards represent new heights of performance and value, but AORUS's implementations go even further, with unique cooling and hardware enhancements to help truly optimise these GPUs.
Read the GIGABYTE AORUS GeForce RTX 3070 TI Master review on PC Gamer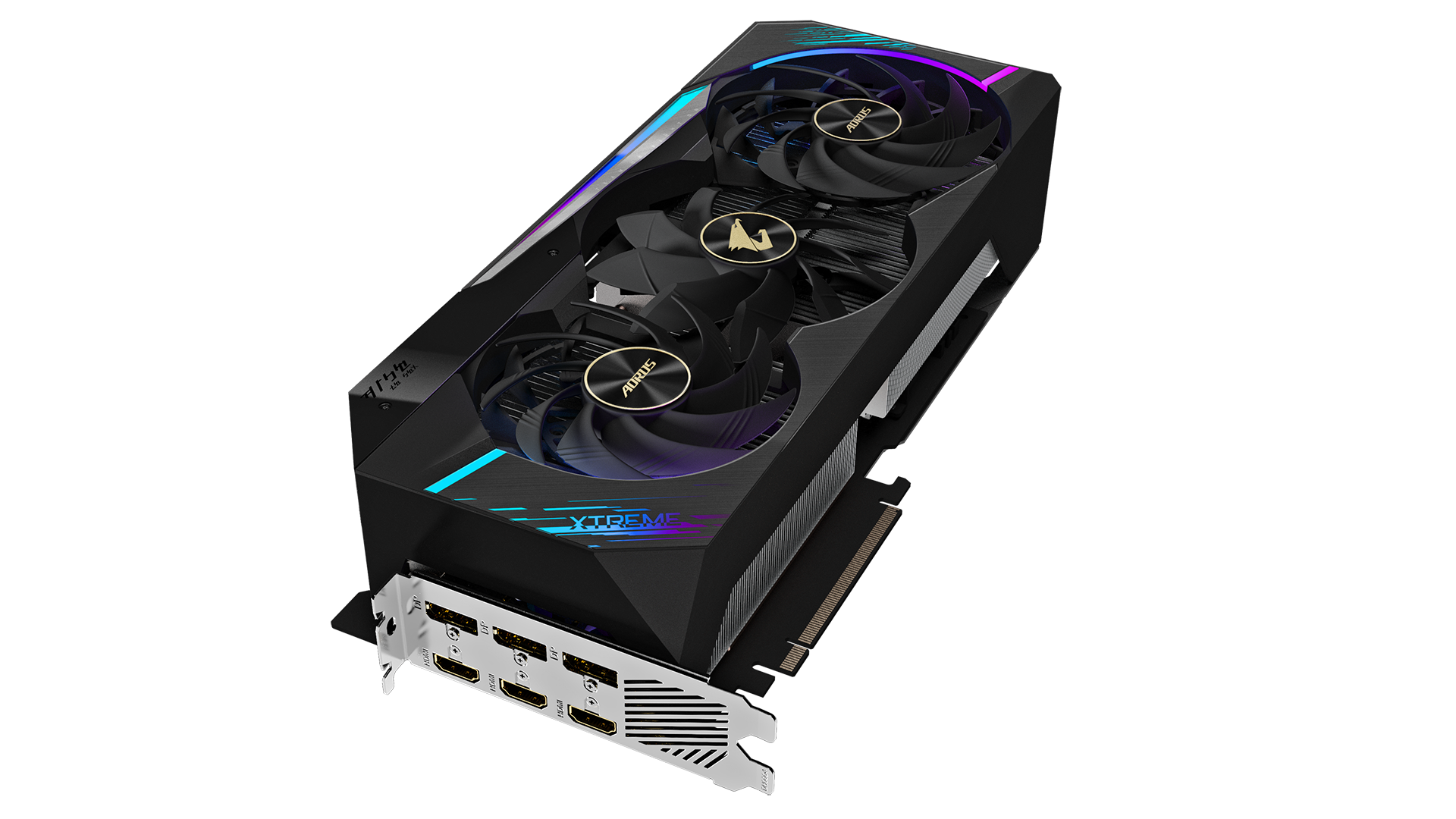 Cooling technology
In the world of graphics cards, with immense power comes great potential for overheating, reliability and longevity-limiting issues. So it's great to know that AORUS has you covered with multiple exclusive cooling technologies. The first is called, MAX Covered Cooling which manifests in the form of two 115mm fans plus one 100mm fan, with the middle module spinning in the opposite direction. This reduces turbulence and doubles the air pressure across the entirety of the heatsink, improving heat dissipation.
Performance is further enhanced by the unique Blade Stack design which sees the airflow spilt by a triangular fan edge and guided smoothly through a 3D-stripe curve on the fan's surface. The angular and unequal height of the fins helps channel the airflow and enlarges the area of the contact surface, while the scooped Wind Claw design further reinforces and accentuates airflow across the heatsink.
The heatsink itself features a large vapour chamber and composite copper heat pipes that are in direct contact with the GPU and VRAM to ensure the most efficient transfer of heat generated by the chips. The extended length and embedded air channels (called 'Screen Cooling' technology) allows air flow to pass through it, providing better heat dissipation plus superior (and more reliable) performance.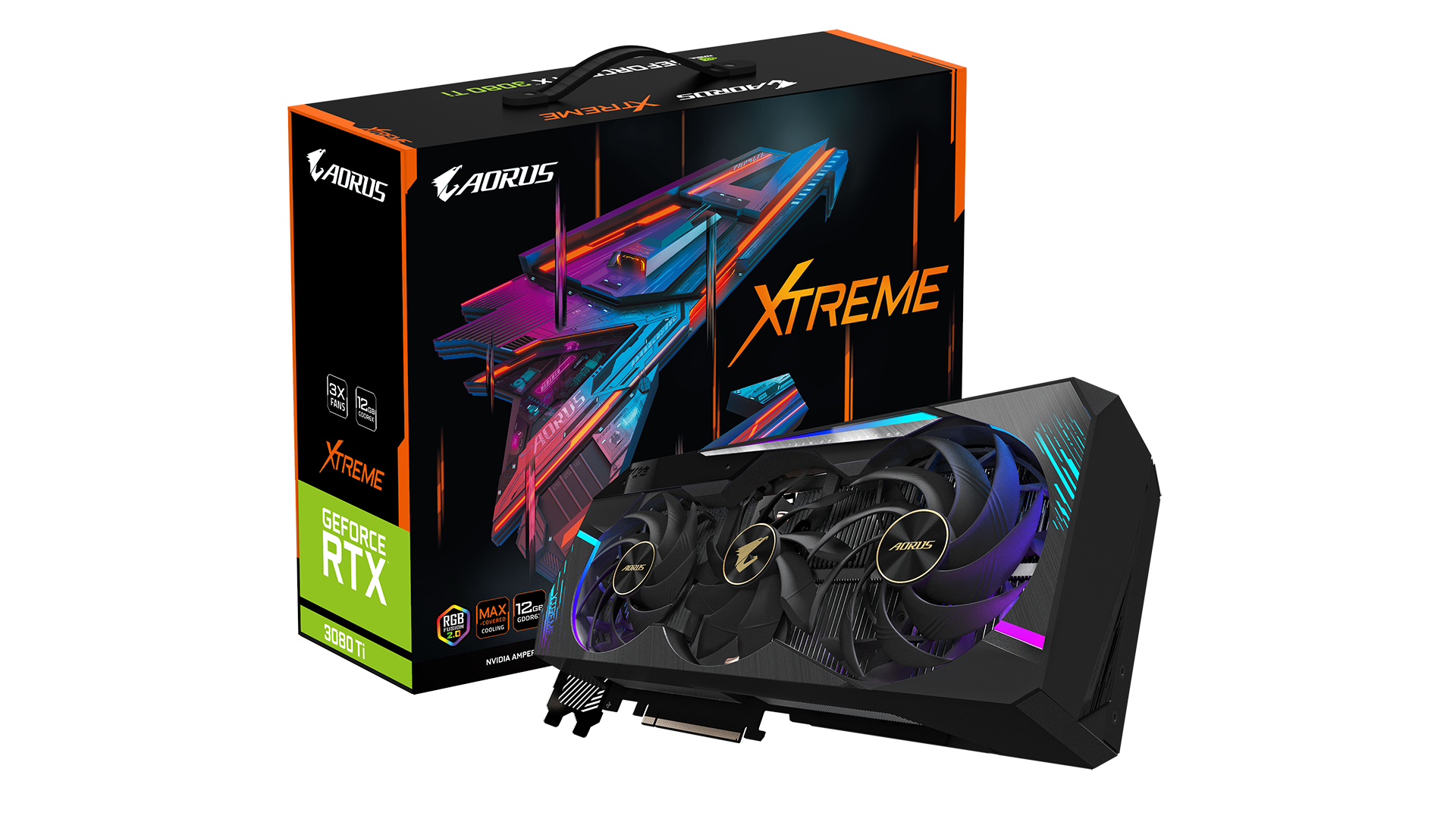 Go-fast technology
With the hardware running optimally, what actually becomes faster? A key technology is Deep Learning Super Sampling (DLSS) 2.0. This embraces Nvidia's Artificial Intelligence technologies to allow real-time rendering while preserving the detail needed to play the best games at very high resolutions. This can be achieved through the use of RTX GPUs' Turing Tensor cores which are specialised A.I. processors that are fast enough to apply A.I. processing on every frame. Version two can take a Full HD image and effortlessly upscale it to 4K without losing detail! It's also a 'fully general solution' which means it will work on any game – no special drivers required. Ultimately, it makes the best games look better and run faster at higher resolutions.
Another key benefit of Nvidia's RTX GPUs is ray tracing. This technology calculates the effect of multiple light-sources and reflective surfaces in real time, making any scene look cinematic and, ultimately, much more realistic. Not so long ago these effects were only achievable using rendering farms!
What are AORUS' other unique features?
First there's the eye candy. The first thing to notice is the RGB Fusion 2.0 lighting modules embedded in the cards. These allow 16.7 million customisable colour options and numerous lighting effects that you can synchronise with other AORUS devices. James' bespoke PC makes full use of this along with additional lighting in the see-through case to transform the PC into a stunning statement piece.
Another head-turning effect is LCD Edge View. This is an LCD screen, embedded on the graphics card(!) which can display dynamic performance information or customisable messages, graphics and logos to add a bespoke, high-end design flourish.
Other features include power-connector LEDs which can indicate any issues with power (supply) delivery. There's also an onboard Dual BIOS switch to force cooling into a silent-running, passive mode.
Many enthusiasts will warm to the generous number of multi-monitor (and VR) friendly ports – there are both three HDMI and three DisplayPort sockets.
With cards being so hefty by necessity, it's good to know AORUS' robust metal back plate doesn't only provide an aesthetically pleasing shape and design, but also enhances the structure of the graphics card to provide additional protection and strength.
AORUS Engine is the bespoke app that provides an instant, intuitive interface for adjusting clock speed, voltage, fan performance and power in real-time – according to your game's requirements.
AORUS also pays attention to the little things. Enhanced fabrication methods provide protection against dust, debris and moisture and even ensures that the soldered connections on the PCB are smoothed-down so they won't cut your hands! Add to this an enhanced power-phase design which allows the power-governing MOSFETs to operate at lower temperatures while protecting against temperature spikes and while maintaining load balancing for extra reliability and longevity. This plus the Ultra Durable-certified chokes and capacitors are why AORUS provides a whopping 4-year warranty for its graphics cards!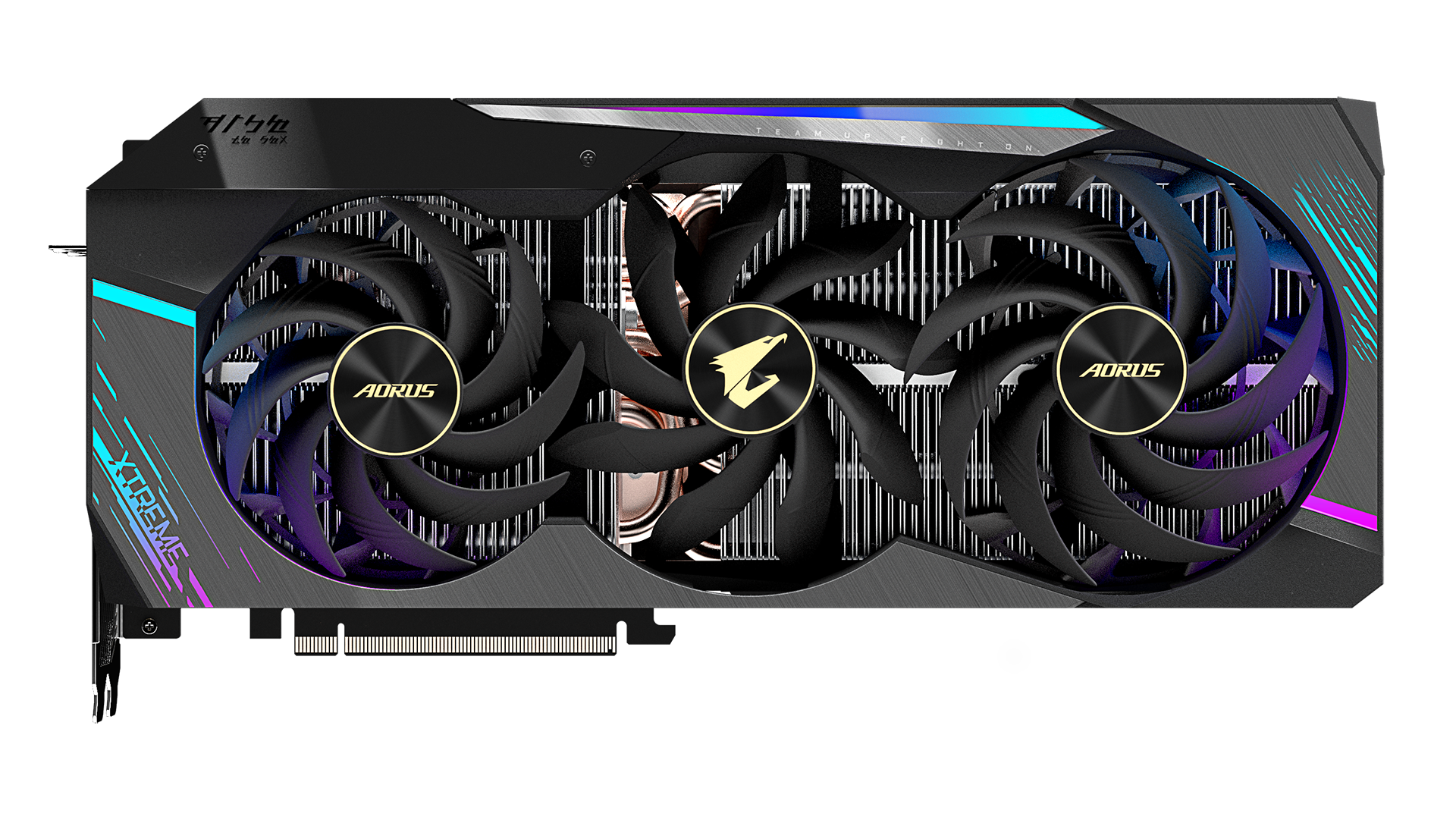 Ultimate performance
It's no wonder that James was so elated to receive his AORUS-powered gaming rig. He's already used it on the AFL Gamers Network and live-streamed himself playing Call of Duty – showing off the performance it brings to competitive gamers. He says, "The gameplay is so smooth – the other lads have no chance against me now!" Watch James introduce you to his epic AORUS rig on his Instagram.
WIN AN INCREDIBLE AORUS UPGRADE PACK WORTH AU$2,018!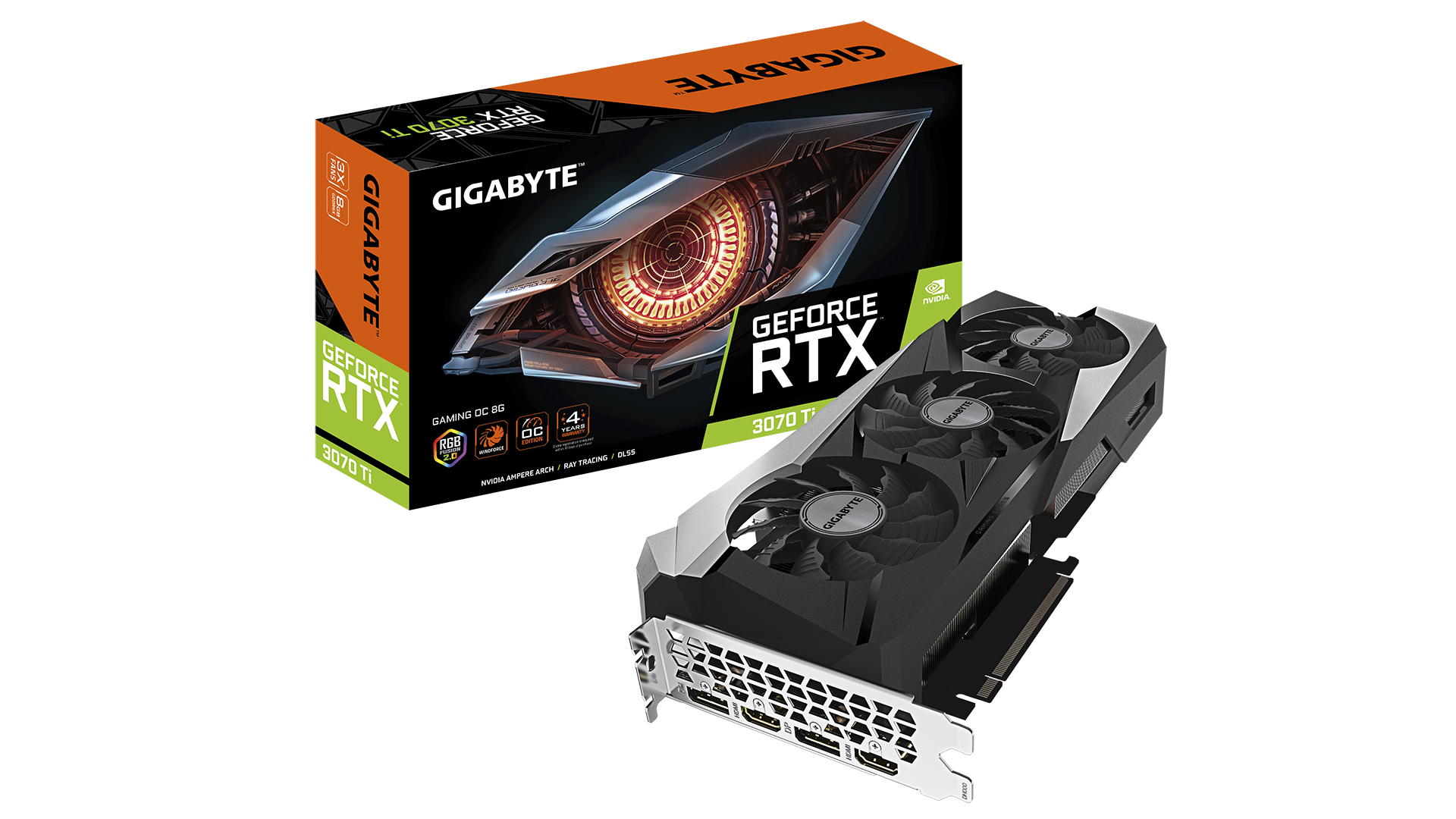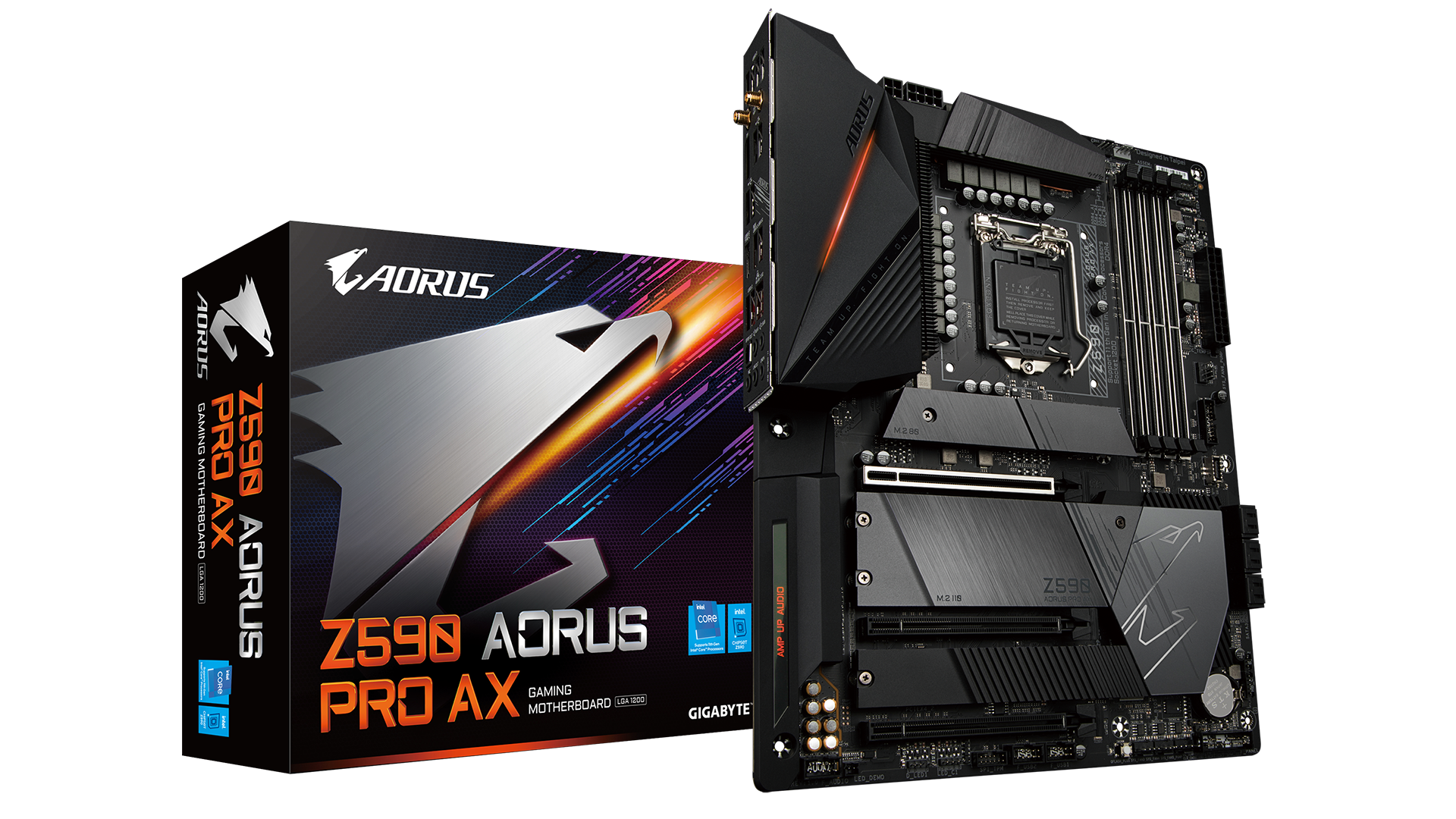 You too can enjoy the power and performance of AORUS gear. We're giving away the very desirable GIGABYTE RTX 3070 Ti Gaming OC graphics card worth AU$1,559, and that's paired with a beautiful and feature-packed GIGABYTE Z590 AORUS Pro AX motherboard worth AU$459.
That's a mighty nice foundation for you to build a truly exceptional PC around.